About Awaken Chiropractic Center
Our Mission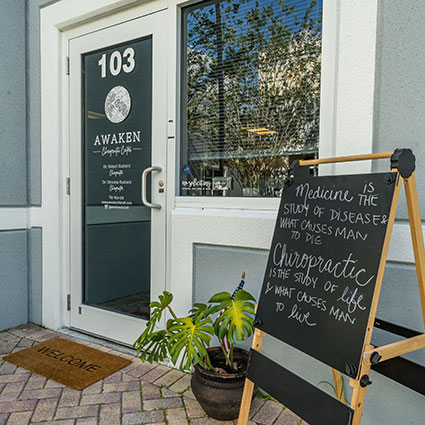 Our mission at Awaken Chiropractic Center is to help humans create stronger connections to source and self through breath, adaptability and movement. We strive to offer a safe, nurturing healing space for individuals and families passionate about taking responsibility for their health and cultivating a greater understanding of the amazing power God gave each body to heal from within.
We'll make this happen by providing the most life-changing nervous system-centered care possible.
Our Vision
We see all members of our community—including you—shifting from surviving to thriving.
MEET THE DOCTORS »

Our History
After graduating from Life University, Drs. Victoria and Robert Kustarz have worked in many chiropractic clinics throughout the state of Florida. They opened our first location in Palm City in 2019, only to have to close it the next year due to COVID. In 2022, we reopened in Port St Lucie with the goal of educating people about the importance of a healthy functioning nervous system, and empowering them to create optimal health without drugs or surgery.

About Awaken Chiropractic Center | (772) 763-1311