Meet Dr. Victoria Kustarz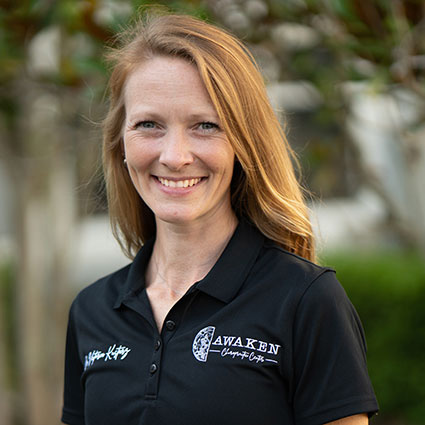 Chiropractic Chose Her
Dr. Victoria Kustarz began working at the front desk of a chiropractic office in 2009. At the time, she suffered daily with anxiety, depression, headaches, digestive issues, and far too many aches and pains. After she was rear-ended in a car accident, the chiropractor she worked for explained what happens when whiplash injuries occur, and offered to take care of her. Chiropractic care helped with her injuries, but many of the other symptoms she had struggled with for years began to improve.
That wasn't enough to convince Dr. Victoria, and soon she changed jobs and stopped getting chiropractic care. But when her symptoms began resurfacing, she knew it was time to get back under care. Her new chiropractors helped her understand the mind/body connection and how our bodies are designed to heal and regulate themselves from within.
EXPLORE OUR SERVICES »

When she expressed her desire to learn more, her chiropractor suggested Life University in Marietta, Georgia. Dr. Victoria had other ideas—namely, being near an ocean—and reached out to other chiropractic colleges instead. When none of them responded to her inquiries, she visited Life University. Upon arriving, she knew she was where God wanted her to be.
At the beginning of chiropractic college, Dr. Victoria stumbled upon (really, she was guided to) one of the most unique, gentle, life-changing chiropractic techniques developed to date. She watched her first NetworkSpinal entrainment (adjustment) from the doorway of a classroom, not understanding anything they were doing—it was so different from everything she knew about chiropractic.
Studying and personal experience with NetworkSpinal has deepened her understanding of how chiropractic can offer reconnection to people who have disassociated their mind from their bodies—it's more than settling for restoration to a previous state of being; it's creating a new, higher way of functioning.
Chiropractic school also introduced Dr. Victoria to the countless benefits of gentle adjustments for moms-to-be, babies and children, including and especially those with sensory processing disorders and birth trauma. Dr. Victoria completed her internship at one of the largest pediatric, special needs, prenatal and family wellness chiropractic offices in Georgia. She began training with the International Chiropractic Pediatric Association (ICPA) in 2015.
Dr. Victoria received her Doctor of Chiropractic degree from Life University in 2016. She is certified in the Webster Technique by the ICPA and holds a 200-hour yoga training certification.
Our Clinic
Dr. Victoria met her husband, Dr. Robert Kustarz, while they finished their prerequisites for chiropractic school. After graduating and working in many types of chiropractic clinics throughout Florida, they opened Awaken Chiropractic Center in 2019. Unfortunately, COVID forced the closure of the office the next year, but they reopened in 2022 in Port St Lucie. They are proud to be the only NetworkSpinal practitioners within 45 miles.
In Her Spare Time
When she's not in the office, you will probably find Dr. Victoria hanging out with Dr. Robert, whom she married on the beach in 2018. They love to be outside as much as possible, and spend a lot of time doing various types of yoga, from gentle Yin and Hatha to active Kundalini and Vinyasa flows.
Book Today
Contact us today to schedule your first appointment.
CONTACT US »

Dr. Victoria Kustarz | (772) 763-1311