Meet Dr. Robert Kustarz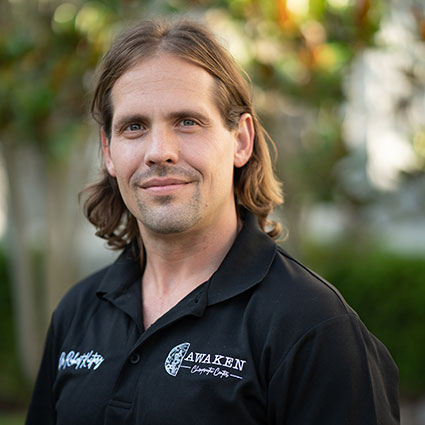 Making a Change
Dr. Robert Kustarz grew up receiving chiropractic care, but it wasn't until he was in high school that he noticed he never got sick—and if he got injured playing sports, he recovered much faster than his teammates. He started to make the connection between regular chiropractic care and optimal health, but it didn't sink in until his twenties. He was working as a chef, and he suddenly realized he couldn't do that anymore—he needed to do something that made a difference in people's lives.
He enrolled at Life University in Marietta, Georgia, and graduated with his Doctor of Chiropractic degree in 2015. He also met his wife, Dr. Victoria, there.
Dr. Robert has a master's degree in Sport Health Science and is certified in the Webster Technique through the International Chiropractic Pediatric Association (ICPA). He's currently working towards his 200-hour Kundalini Yoga Teacher Training.
EXPLORE OUR SERVICES »

Before opening Awaken Chiropractic Center with Dr. Victoria, Dr. Robert spent years working in many clinics throughout Florida. He has helped Division 1 athletes in a sports chiropractic practice, as well as auto accident and other personal injury cases when he worked in a personal injury clinic.
Through working with such a wide variety of people, as well as going through his own health challenges, Dr. Robert's view on achieving optimal health has expanded. He's passionate about helping practice members make the lifestyle changes they need to improve their health and revolutionize the way they approach life.
Dr. Robert specializes in NetworkSpinal, a low-force technique that helps restore mind/body communication so that everyone he works with can function at a higher level, physically, mentally and spiritually.
Away From the Office
When he's not helping practice members get the most out of life, Dr. Robert is always moving—doing yoga, working out, developing exercises for practice members, gardening, and hiking. He loves spending time with Dr. Victoria out in nature. He's also teaching himself to play the guitar.
Schedule Today
Contact us today to book an appointment.
CONTACT US »

Dr. Robert Kustarz | (772) 763-1311